Safer Space in English spoken language with English subtitles and German spoken language and German sign language interpretation
Crip Pleasures – a Teatime Get-Together is going to be an interactive teatime party in which you can take part as much or as little as you like! Join however you fancy to be with us in this casual get-together, diving into pleasure feelings while drinking our teas, coffees and sparkling waters, eating our cakes, biscuits, and watermelons,… What is it that makes you as a Crip, Disabled, Sick, D/deaf, Mad and/or Neurodiverse person really feel good and satisfied? What's your favourite snack and drink? Who taught you to feel good? Who's your crip icon? Any Crip Pleasure Tools you'd recommend? Come, join and spill your tea…
Registration via email: winter@sophiensaele.com
This event is limited to max. 20 participants.
---
Safer Spaces
Our safer spaces are for disabled and deaf participants, while the public sessions are for disabled, nondisabled, deaf and hearing participants alike.
If you live with nondisabled and hearing privileges, we ask you to respect that this event is for disabled and deaf people only. We acknowledge that not all people we aim to welcome in this space will identify with the terms "disabled" or "deaf" but might use other terms (such as chronically ill, neurodiverse, mad etc.). In these Safer Spaces, we aim to create spaces for empowerment and to alleviate the pressure to assimilate to the nondisabled and hearing majority.
---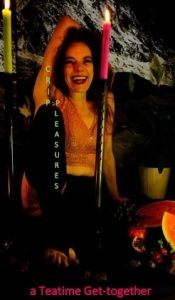 Tanja Erhart, born in Austria and based in London, is a crip – disabled and sick –, queer, white woman in 3 different bodyminds: with her wheelchair, one-legged and three-legged with her two crutches. As a dance artist and cultural anthropologist, she finds excitement in exploring her bodyminds and develop movement practices also based on pleasure activism by focusing on dismantling oppressive structures through centring access and care, needs and desires. Her newest collaboration j e n g a with Katharina Senk, an interactive and intersectional dance piece which delves into the depths and the desires of building and falling apart together, will premiere in Vienna in January 2022.