Safer Space in English spoken language with English subtitles and German spoken language and German sign language interpretation
Sindri and Jo are two independent disabled artists working in performance and choreography. When they met it was love at first _____ . Immediately recognising each other as kin, it was obvious they shared many pre-occupations, including but not limited to; a lived experience of Visual Impairment, expanding dance and performance out of the visual world through touch, sound or whatever means necessary, a very real love of mischief and a bizarre sense of humour. Here we join them discussing their practices and continuing these conversations.
Registration via email: winter@sophiensaele.com
---
Safer Spaces
Our safer spaces are for disabled and deaf participants, while the public sessions are for disabled, nondisabled, deaf and hearing participants alike.
If you live with nondisabled and hearing privileges, we ask you to respect that this event is for disabled and deaf people only. We acknowledge that not all people we aim to welcome in this space will identify with the terms "disabled" or "deaf" but might use other terms (such as chronically ill, neurodiverse, mad etc.). In these Safer Spaces, we aim to create spaces for empowerment and to alleviate the pressure to assimilate to the nondisabled and hearing majority.
---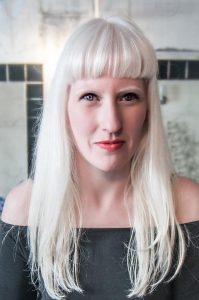 Jo Bannon is a UK based artist working in performance, choreography and live art. Her work is concerned with identity, sensory perception, and human encounter and explores how our physical bodies experience the world around us and how this sensory experience can or cannot be conveyed. Her work is informed by her identity as a disabled woman with albinism and attempts to unpick the ways we look, hear and sense our immediate environment in order to rethink or make unfamiliar these intrinsic human behaviours. Bannon's work is led by form and so manifests in various mediums including intimate encounters designed for single or small audiences, staged performance, dance, film and installation.
Sindri Runudde is a dancer and choreographer based in Sweden. Their work is characterized by a multi-sensorial approach to the body as a living archive. Sindri invites artists and creators to their process to examine and problematize how we experience the world around us through our senses and our perception. A musical and auditive method and perspective is central. Sindris work spans over several fields and includes sound art, visual art and performance. They are educated in contemporary circus and dance, and have worked with companies and institutions as well as toured their own works both in Sweden and internationally.